After a month of down time, I pulled Copper in on Tuesday to ride. I wasn't even planning on riding, but just catching him to groom on him a little. I'd let him in with the mares and they had an excellent time playing/getting into mischief together. I have no media of me riding, so enjoy .gifs of Copper and Paige frolicking together.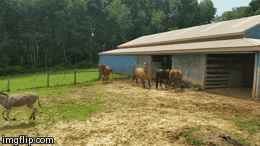 The ride went well, which wasn't super surprising since we just rode in the barn (that is a hot mess). I did think he'd be a little different than the last time I rode a month ago, but he was on his western pleasure game and gave me a consistent ride. He did think it was super interesting when I'd jog him down the straight side towards the leaning boards. He'd prick his ears as if I might ask him to go under them. ha. We'd both have splinters in all the places to say the least.
Since the barn was already all kinds of messy with the boards leaning against the wall from our destruction I decided to build a baby jump. Or it was a jump. What once was crossrails was demoted to ground poles in short order by the daisy clipping western pleasure pony.
Copper says dressage is his non-western game, not this jumping nonsense. What was truly pitiful was how bad he knocked the poles with his feetsies when they were just ground poles! Obviously he insists that he is flat kneed and will not pick up his feet.
I'm planning to move the "jump" out into the field and see if Paige can muster up more enthusiasm than Copper did.

She seemed lively when I mixed the field and the social dynamic has been different since the donkeys are now dieting with the mares instead of stuffing their faces with Copper. For some reason Kricket and Paige (who have been mortal enemies since Paige moved to the farm…) are now hanging out together and Robin and the donkeys are buds. Mares are weird.
I'm getting super nervous about Paige's ultrasound on Wednesday. It didn't help when this was on my TimeHop for the day:
This was two years ago (obvi) when I was breeding Robin to the APHA stud that I was supposed to breed Paige to this year before plans changed. If Paige isn't pregnant on this collection, I'll try one more. If she doesn't get pregnant on that one, I'm done breeding horses. I did only try Robin once due to financial reasons, and I'm willing to try Paige twice, but after a while you wonder if something is meant to happen or not. Breeding horses is expensive and can be emotionally draining and stressful, and I'm working with great people! I can't imagine the stress associated with stallion owners who aren't as professional as the people that I'm using. Wish me luck on Wednesday!