So, I've been very happy with Copper's change in attitude since going to G's last year, and I intend to send him back for more canter-work and lessons for me. While all of these things have been nice, Copper chose to be a western pleasure horse when in training. Cool cool. I can fit in those clothes. But when I consider showing in western pleasure, the exaggeratedly slow lope is a deal breaker. I just don't want my horse to look like that. Sure we can show locally around here and do well enough, but I would like to aspire for something more than local shows against the same people I've shown against for the entirety of our lives. It is nice to be able to haul less than 30 minutes to a show to get out and do something different, but we are capable of more exciting things.
We may do Appaloosa breed shows down the road, but here is my beef with that: unless you go to the Nationals or the World, no ribbons. Your reward? Points. A lot of people like points because they qualify them for the big shows, which puts them in the running for the big trophies. Trophies are nice. The odds of Copper and I winning one of those trophies in Texas? Not so high. I love my pony, but he's not with a big name trainer. The trainer I do like to use is a) easy to get along with while being knowledgeable, b) within our budget and c) close to home. I like to ride my horse. I'm not going to send him to someone who rides him six days a week and I see him monthly because of distance. Nope. So in order to be competitive at ApHC breed shows where you actually win something tangible, we'd have to show at a higher level than we'd be naturally competitive. I'm a firm believer in working with Copper's natural talents and not pushing him towards something that doesn't work for him.
With that being said, we played with a new idea this weekend. My friend A used to event. She hasn't lately since she's been working for Copper's breeders at an Appaloosa halter barn. She jumped one of Copper's half brothers for a while, but more lately she's been posting pictures of his other half brother, Oliver, doing dressage. I'd already asked A for a dressage lesson when she came in next so that we could play with the idea of western dressage. A took it one step further and brought her dressage saddle with her.
She got here Thursday evening, so we went to the barn around seven, once it had cooled down some. It was a great evening to ride since the sun was behind the trees on its way down. Most of the field we ride in was shaded. She rode him in the barn briefly before going outside, just to make sure his brain was going to work with the different saddle. He seemed fine with the saddle change, which makes sense due to the dressage saddle weighing so much less than my Billy Cook. After riding him in the barn, we decided to see how he did out in the field. As you may know, riding Copper out in the field is a goal of mine for this summer, but I'm still paranoid that he will remember his fancy tricks once outside.
He may have proved me right a little bit…but the frolicking was pretty weaksauce compared from what we're used to from him. He was just lazy and didn't want to canter. The gif above was definitely the worse of his silliness. As you can see below, he worked out of it fine.

I have a theory that had I been riding he would've been less likely to buck. Not because of a "bond" or anything like that, but because I weigh a good bit more than A! It very likely would've been easier to canter and be a good pony than it would be to lift me into the air. I may very well test this theory when I ride out next when someone is there. I try not to put myself in less safe positions when alone on the farm.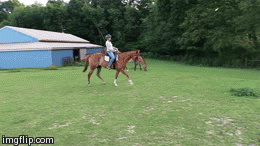 As you can see, he has this trot on the bit thing figured out. He is prone to overflexing since he's used to going on such a loose rein, but we'll work on it now that we've had some experience with supervision from A. I'll share pictures from my ride tomorrow. 🙂